ΠΟΙΕΣ ΒΑΣΕΙΣ ΔΕΔΟΜΕΝΩΝ ΔΗΜΙΟΥΡΓΗΘΗΚΑΝ ΣΤΑ ΠΛΑΙΣΙΑ ΤΟΥ ΕΡΓΟΥ
Ένα από τα κύρια βήματα του έργου είναι η ανάπτυξη μιας εθνικής βάσης δεδομένων για τους συντελεστές εκπομπών για την υποστήριξη των οργανισμών από κάθε χώρα στον ορισμό και την εφαρμογή της προσέγγισης τους όσον αφορά την υποχρέωση λογοδοσίας για τον άνθρακα. Έτσι, έχουν δημιουργηθεί 5 εθνικές βάσεις δεδομένων που περιέχουν τουλάχιστον 300 παράγοντες εκπομπών, μεταξύ των οποίων 150 EF για συγκεκριμένες χώρες. Οι συντελεστές εκπομπών αποτελούν το βασικό σημείο οποιασδήποτε μεθόδου υπολογισμού, οπότε είναι σημαντικό να χρησιμοποιηθούν οι τυποποιημένες τιμές σε εθνικό επίπεδο.

Οι διαθέσιμες βάσεις δεδομένων EF επικεντρώνονται στην κατηγορία των εκπομπών από τους κύριους τομείς (ενέργεια, ψυκτικά υγρά, μεταφορές φορτίων και επιβατών, επεξεργασία αποβλήτων και αγορά αγαθών όπως γεωργικά προϊόντα, χημικά, γυαλί, χαρτόνια, μέταλλα).

Οι κυριότεροι τομείς που εντοπίστηκαν για τις εθνικές βάσεις δεδομένων ακολουθούν μια μεθοδολογική δομή της έκθεσης για την εξασφάλιση της ομοιομορφίας μεταξύ των βάσεων δεδομένων.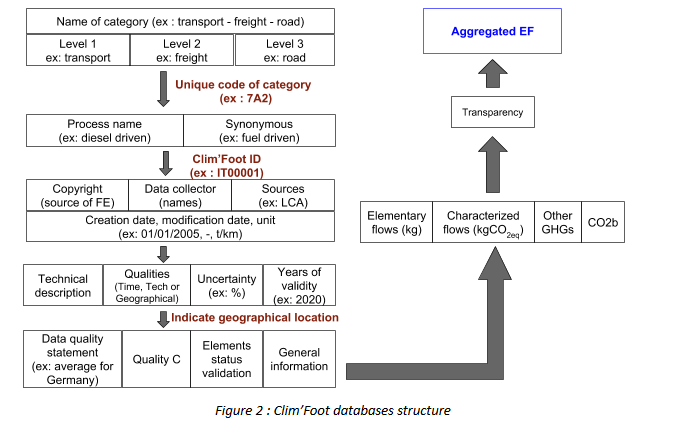 Process name: a descriptive name for the activity. It must be unique and consistent during the project. You can use the synonymous field to record any other names by which the process is known.
Clim'Foot ID: a number composed by two capital letter that define the country and five number.
If you use data protected by copyright, you have to declare it.
Technical description: a short description of the process. Among the activity description, you have to precise some data quality: the technological representativeness (TeR), the time representativeness (TiR) and the geographical representativeness (GeR) which are data quality level to assess the representatives of the technology used.
Data quality statement: other informations which might indicate weakness in data quality or difficulties in use or interpretation of the data.
Elementary flows: the greenhouse gases covered by the Kyoto Protocol. All GHG emitted are multiplied by their Global Warming Potential in order to express all gases in the same unit, that is the characterization flows.
Η λήψη των 5 εθνικών βάσεων δεδομένων (Ιταλία, Κροατία, Ελλάδα, Ουγγαρία και Γαλλία) είναι διαθέσιμη κάνοντας κλικ εδώ !!


Μπορείτε επίσης να κάνετε λήψη των 5 βάσεων δεδομένων στο τμήμα 5 Παραδείγματα στην πράξη, στα πλαίσια του έργου: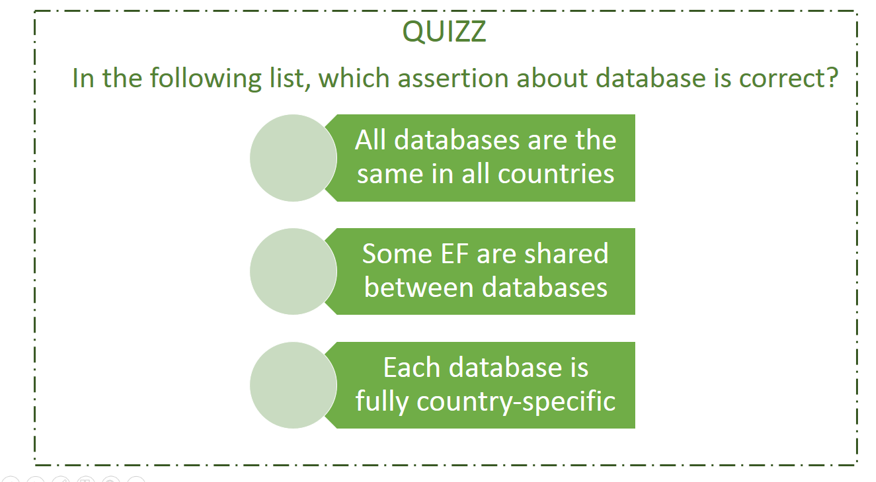 Για να δείτε την απάντηση στο quiz, απλά κινήστε τον κέρσορα πάνω από την εικόνα!
Δείτε την επόμενη σελίδα ή επιστρέψτε στο κύριο μενού.